Interview with Rich Malachy
We got to sit down with CEO and Social Media Influencer Rich Malachy from Malachy Parts & Service- one of our leading authorized service agents in the country for a quick interview to discuss the industry and what he has going on in the media world!
1. Tell us about your company's role. What does it provide?
I am the CEO. We are a parts & service company. Commercial cooking, refrigeration, HVAC, and food prep equipment Installation Company servicing 75% of New Jersey. We have been in business for over 30 years. We are a family owned company and are continuously growing. I started as parts manager here and worked my way up to CEO. Day to day, I oversee key accounts and also on the road a lot. I've been going to different conferences and events. I am also building a startup Media Company directed at food and service sector to spotlight techs. I want to connect with manufacturers and dealers.
2. What equipment do you find happens to need serving the most?
Typically, anything dealing with water is at more risk. You have your steam type equipment for cooking, dishwashers, that sort of thing. Refrigeration also breaks down often needing to replace compressors.
3. Where do you see your industry heading to in the future?
We are starting to see the kitchens of the future, equipped with touch screen controls and authorized service companies will be the only ones that can work on them. They will also have Wi-Fi which will keep the owners more informed as to what is going on with their equipment. They will be able to see if parts are failing or if their equipment may be mismanaged by their staff. Techs will be able to be more data driven as the machines will be able to tell them what will need servicing. Everyone will be a lot more connected.
4. What is one thing that is commonly overlook by end user equipment owners in your opinion?
I would say it is budgeting for routine maintenance. People think that it is money that they are wasting. However, preemptive maintenance will save you money in the long run as the machines are running and there is minimal down time. Service can do real involved maintenance, more so than kitchen staff wiping down the equipment. People tend to overlook for site.
5. How much longer can equipment last if it has routine maintenance performed on it?
With the quality of equipment today it can last a decade, if not longer. If neglected it can last only half that maybe. I have seen equipment that is only 2 years old and will be completely shot. You would not believe some equipment I have seen that is so neglected. My guys will go in to service it thinking that its decades old, only to find out its maybe 2 or 3 years old. I have also seen really well taken care of older equipment and they are still running. I have serviced places where the owners schedule routine maintenance on their equipment that is at least 20 years old and it is still going strong today.
6. Do you find advancing technology helps or hurts your industry?
That's a big debate for a lot of different people. Things are becoming more robotic and can be perceived as eliminating jobs. Many people would see that as costing people jobs. However, you cannot have only robots in a kitchen. I think that it will cause a shift in roles for people in the kitchen because automation will still need human supervision. Also Business owners are given bird's eye view about their machines. They can give error codes before the part gives out or when things are getting close to a service. This will cut the amount of down time on machines. But that will definitely be a big debate coming up.
7. What equipment do you think needs the most care and attention for restaurant owners? What equipment do you feel has the most responsibility with owning it?
It varies from kitchen to kitchen. There are seafood places that have steamers. They need to keep that steamer going. Fast food places have their fryers; if those go down, their production holds up. Grills go down, they can lose all their hot food and are not serving their customers losing business. It really depends on the industry. Ice machines are super important for all restaurants. They deal with compressors and water and if those break down they can cause more damage than just equipment repair. In healthcare, dishwashers are such a big factor. They have to have their plates, trays, and utensils sterile for their patients. If a hospital's dishwasher goes down, they're looking at serving thousands of patient's food with plastic utensils and paper plates. And how do you think that is going to look on the hospital's behalf? Which is why it's so important to have your equipment serviced routinely.
8. You're very present on social media. Between Facebook, Instagram, Twitter, and the rest, do you find that a social medial presence is pivotal for a growing company?
Oh, 1000%. I think that all the companies that are only halfhearted or not doing it at all are going to have an uphill battle in the next 5 years. I pay attention to these kind of trends. Companies that don't see the writing on the wall are going to go out of business. A lot of it, I find, is a generational gap. Older business owners haven't had a need for social media in the past. I am looking to build a community. People want to connect. They want to know who they are working with. I want to be as transparent as I can with my company. I want people to know me and my techs. That builds a level of trust between business owners and my company.
9. Your company guarantees its service for 180 days. This is one of the best in the industry. What is the importance for your company with training your technicians?
It's a value. Competition is great. With the techs we have in place, we are certified. We are constantly training and keeping up with the evolving equipment. I put a lot of trust in to my guys. It's an added value for me and my customers.
10.When training techs, do you find that as equipment gets more advanced that it is more involved for them to become better rounded? Do you have specialized techs or is everyone able to work on anything?
For us here. I want well-rounded techs. We have 14 techs and growing. 3 of those guys are duel techs. One is HVAC focused. The rest are kitchen equipment. They are versatile. I do not want any one trick ponies. We send a tech out and the customer will know that they are going to handle everything.
11.Tell everyone where they can find you and your company. Let everyone know what you have going on.
I am redoing my own personal website, www.Richmalachy.com. It is going to start to involve a lot of things between traveling and what my guys and I are up to. Also everyone should go to www.Malchycares.com. It's a new site but its constantly updating. We are adding new things to it all the time. Also, I push Malachy TV on Youtube. Right now, we are hitting college campuses around here. We have been asking students only one question, "Do you know the food equipment industries?". I want to let people know that there is no shame in a person choosing a career path that involves them working with their hands. Especially in my industry. I don't believe in that class thing with white collar work and blue collar work. I tell people about my people that we are not blue collar or white collar we are gold collar. Some people I know in this industry have made a really good living taking this career path. Working with your hands is not shameful work.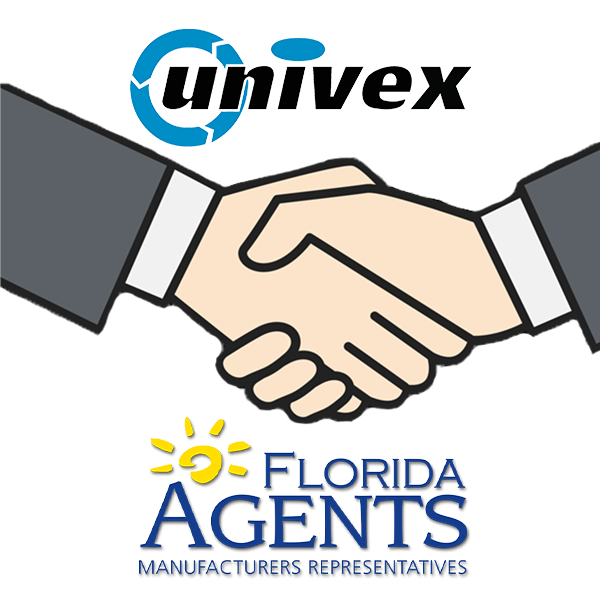 News Univex, a leading manufacturer within the foodservice industry is continuing to expand and grow their outside sales force. Univex is proud to announce new
Read More »