Univex Planetary Mixer's – Why, How and It's Benefits!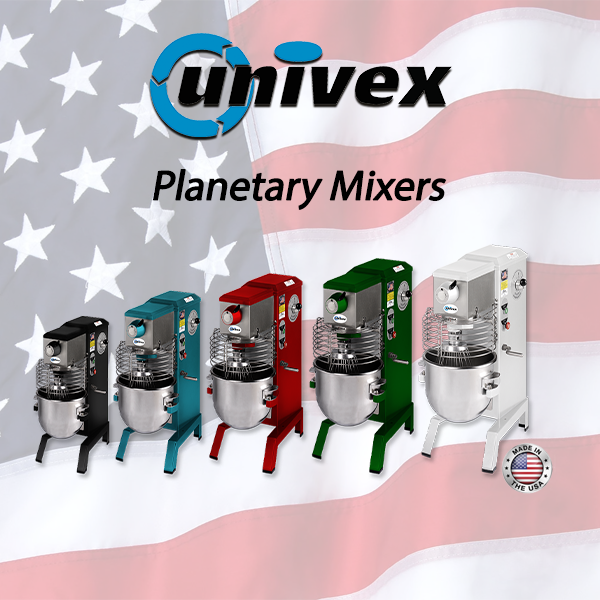 Univex planetary mixers, why how and get to know its benefits! A planetary mixer can be one of the most versatile pieces of equipment in your kitchen. With the ability to interchange attachments to mix, whip and kneed various types of product, and a power take off hub to do things like shred cheese and slice vegetables, there is no doubt that a planetary mixer is a must for your kitchen!
Univex has been manufacturing top quality planetary mixers now for over 70 years! With our manufacturing plant and corporate headquarters located right in Salem, New Hampshire, we are a proud USA manufacturer.
Now, what does that mean, or why should that matter to you? Working with and using a high-quality planetary mixer like Univex's will save you time and labor cost down the road, outperform the competition, and allow your operations to continuously operate at a high pace, knowing your products are made to last!
Univex has many planetary mixers out in the field that are 20+ years old, and are used by thousands of restaurant, bakery, and pizza operators all over the world. Not to mention some of the biggest restaurant chains in the country today!
Want to get into specifics? Let us look at what makes these units great!
There is no denying that "Made in the USA" normally correlates to higher quality of a product. That saying is no different when talking about planetary mixers. Univex planetary mixers are considered "long term- heavy duty" mixers that are made to last!
I our unique hybrid gear driven system that utilizes harden alloy gears, if well maintained, these units will last for years to come!
Univex has many units out in the field that are 20+ years old and still in full production. There is a reason why we raise the bar and set the standard in the foodservice industry!
We all know how important dough can be to a pizzeria or bakery. Whether your starting out small or ready to scale up, all Univex planetary mixers can mix dough.
Normally people associate smaller countertop mixers not being able to mix dough because of how they are built, but not Univex. Univex countertop mixers can mix dough with no worries! We just ask that you follow the capacity chart for best usage!
All Univex Planetary Mixers from our 12qt – 80qt are backed by and industry best 2-year parts and labor warranty. You will not find a better warranty in the industry for a planetary mixer, let alone on an American made mixer!
Univex planetary mixers utilize a unique hybrid gear driven system. Our gear driven transmission provides you with the most power possible to mix for your operation. Due to this unique system, you shift speeds on the fly without turning your mixer off. Saving the customer time and ease of use while mixing.
Univex mixers offer 4 speeds, or any speed in between with our variable shifting system.
This provides you with more power than the competition who are normally limited to 3 speeds! At the end of the day, just to top it all off, maintenance on Univex mixers is quick, easy and will keep you up and mixing for years to come!
Oh, did we forget to mention that Univex planetary mixers come with 4 standard attachments (including our unique bowl scraper at no extra cost).
Although we have other attachments for this mixer, all units (except for the Pizza Model) come standard with stainless safety cage, dough hook, batter beater, wire whip, and bowl scraper.
We want our customers to know they are getting the most for their money, which is why we include these at no extra cost!
All Univex equipment is value engineered. How we describe value engineered is "getting the most bang for your buck" at the highest quality possible! With our heavy duty equipment, Univex's goal is to keep our equipment as competitively priced for our customers.
Of course, you have to purchase through your preferred equipment dealer, however you will find with Univex, you get the most Bang For Your Buck!
At the end of the day, buying a planetary mixer can be one of the most important decisions you will make in your kitchen.
Make sure you go with a unit that will perform at the highest level, and last years upon years (it will essentially pay for itself over time!). We can assure that you will not be disappointed in working with Univex or our equipment.
We are here to support you and your operations!
For more information on our planetary mixers visit: www.univexcorp.com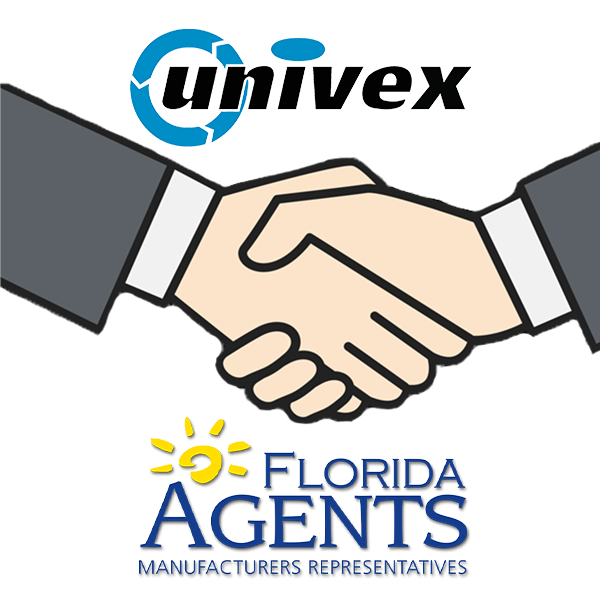 News Univex, a leading manufacturer within the foodservice industry is continuing to expand and grow their outside sales force. Univex is proud to announce new
Read More »